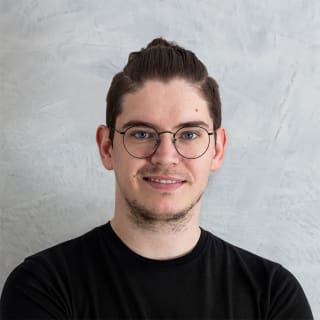 Hi there! Nice to see you here. I'm David.
Let me introduce myself real quick:
My name is David and I'm a Designer who can code. I would call myself an Experience Designer. But Job Titles change, my love for fresh designs and interfaces does not! I'm 27 years old. Living in the beautiful city of Linz.
Currently I am working on my Master Thesis in Web Art &amp Design (Webscience) at Kunstuni Linz. Before that I got my Bachelors Degree at FH Hagenberg in Media Technology &amp Design.
In my Off-Time I like to work on various Projects such as Graphics or Generators for the Black Wings Linz (I work for them voluntarily) or Artworks &amp Motion Designs for local Bands such as Darwin. Other than that I like going to concerts, the movies and of course hockey games.
Further down you can see my past work experiences and educations as well as my CV to download.
Peace, David
Work Experiences
Product Designer
2020 - now
Storyclash GmbH
UI/UX Designer
2016 - 2020
presono GmbH
Graphics Designer
2011 - 2021
Black Wings Linz
Web Designer and Frontend Intern
2015
Atikon EDV & Marketing GmbH
Education
Web Art & Design - Web Science
2015 - 2020
MSc at Kunstuni Linz & JKU
Media Technology & Design
2012 - 2015
BSc at FH Hagenberg
SEO Webmaster Basics
2016
SEOTest
AHS with Matura
2003 - 2011
Europagymnasium Auhof, Linz
Skills
Websites, Webapps, Mobile Apps
Webpages, Generative Art, Style Systems
Print, CD Manuals, Logos, Vector Graphics
Animations, Visuals, Editing
Tools & Technologies
XD, Illustrator, Photoshop, After Effects, Premiere
Newest Standards like CSS Grid or
ES6, Async Functions, etc.
Frameworks & Technologies
React, Gatsby, Storyblok, JAMStack, etc.
Download my CV below!